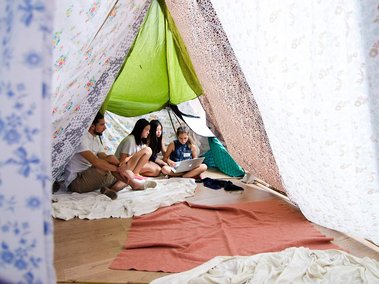 Crazy Dames is a collaboration between Jennie Suddick, a visual artist/educator, and Sara Udow, an urban/community/cultural planner. As a reclamation and an ode to Jane Jacobs, the seminal urban theorist who was often dismissed as a 'crazy dame' by male counterparts, we use the artist's studio as an experimental lab to test Jacobs' 'crazy' ideas - her focus on people and her tradition of fostering tactical and collaborative approaches to our cities. We develop creative, and experiential spaces aimed at generating conversations and new ideas about how we design, interact and play in our cities.
"Who is this crazy dame?"

Jane Jacobs was radical. She rejected the top-down, male-dominated approaches to city planning and advocated for small-scale, bottom up interventions to our streets, neighbourhoods and communities. With no formal urban planning training and without a college degree, she was often criticized as a 'crazy dame' and 'a housewife', who was just offering 'Mother Jacobs remedies'.
What is the role of art in cities?
Collaborative, artistic and social-innovative answers are increasingly needed to address many of our cities' issues, whether it is searching for creative approaches to community engagement or developing new designs for underutilized spaces. We see cities as social and aesthetic environments and believe that collaborative, artistic and playful interventions are needed to address many of our cities' issues.
Feel free to get in touch.
Check out our projects here!